Discombobulated
October 18, 2023 -
Making Comics and 100 Day Writing Challenge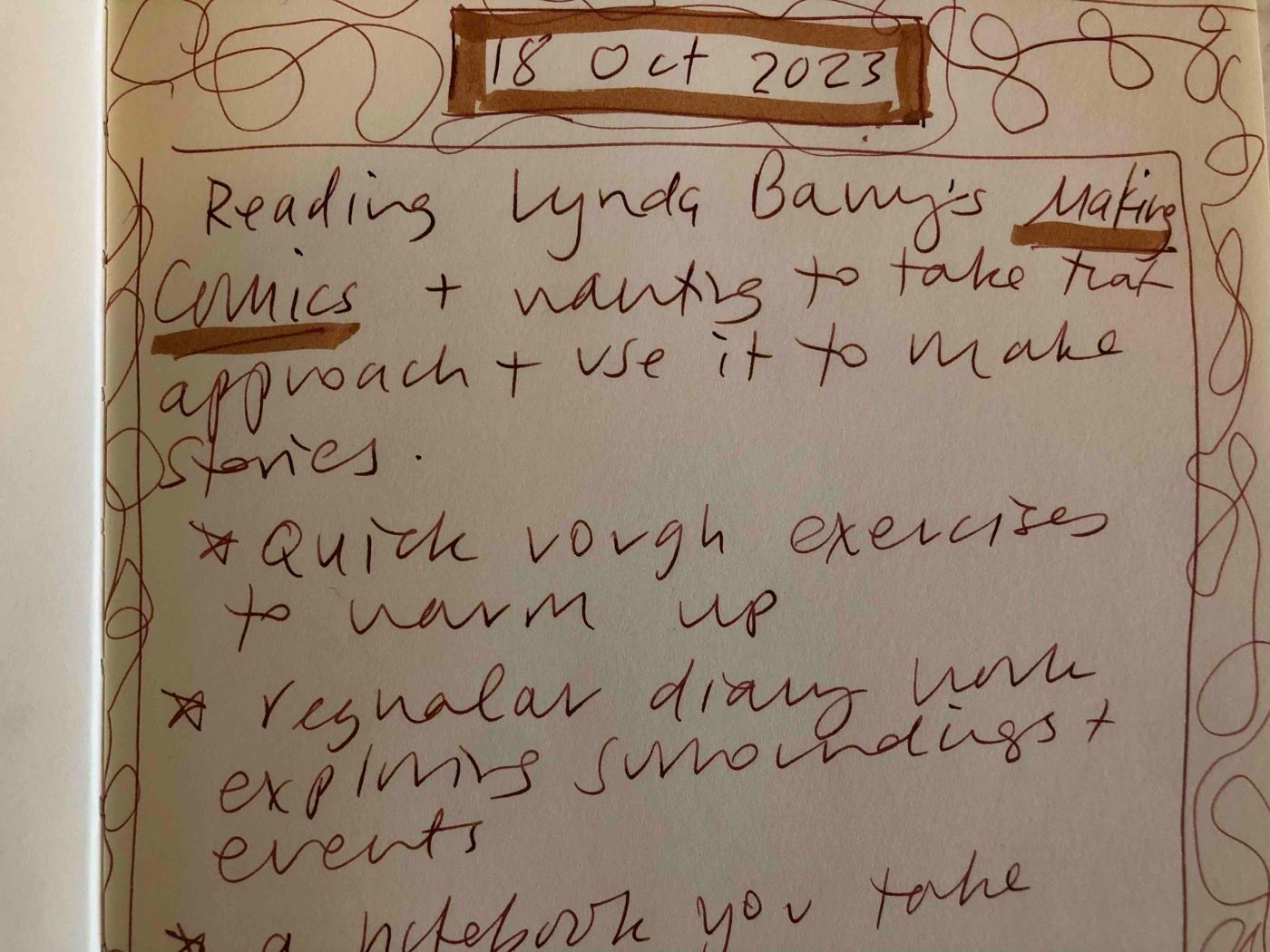 yet another notebook photo
A few books arrived in the post today: 3 volumes of The Promised Neverland, which are Xmas presents for Leila, The Woks of Life (ditto, Steve), and some Lynda Barry books. I've been passing those over to Steve to give me for christmas (mostly as a way to justify the purchase) but I couldn't help myself and started reading her Making Comics straightaway: lying in the sun on the driveway while the cat tried to catch monarch butterflies. (He caught one but when I went over to him and lifted his paw it flew away.)
I'm worried that the swan plant, which grew back after being totally consumed last year, doesn't have enough leaves to support too many monarch caterpillars. Maybe tomorrow after school pick up L and I can go to the garden centre and get some more. I also need to get catnip (which also got totally consumed last year).
What I like about Making Comics, apart from the gorgeous illustration and the feeling that you're holding a working notebook in your hands, is the approach to making things– it's very process-driven yet lighthearted yet purposeful. Also inspiring. I see in Barry's approach to making comics the way I want to approach my writing and story-making and I want to go through it and collect all of the things that I can use to make my own gathering-refining-making process interesting and playful and fun.
Hand in hand with that is yet more Tim Clare — this time his 100 Day Writing Challenge (also a podcast) which so far (I'm on day 13) has some similarities to the Couch to 80k challenge. I'm not really doing these for any other reason that I find them comforting somehow, and they are an extremely low-pressure way to edge into other writing.
I now have two notebooks (three I guess if you count the little hobonichi where I stick photos and random daily scribblings) and they probably want to become one, though I still really want to separate the fictional thinking from non-fictional thinking, and I guess that's ok. But maybe I will start taking some of Making Comics' approach and looking at how I can use that in my regular diary / journal as a way to actually write something a bit different from the usual stuck-in-my-own-head stuff that is so boring to read back over, and not useful for doing anything with.
Anyway, I'm going to have another look and a think and see what I can use to jump into a bit of Trash Planet. I have finally, I think, finished "Your Friend, Biggs" for the group anthology (and progress is coming along for that) by the Incongruous Gongs, which somehow has become the name of our writing group. I keep mentally beating myself up on my "lack of progress" but actually if I look back on what I've finished so far this year it isn't too bad, considering there has been the roughest fucking winter in there as well with covid and colds and all the rest of it:
Catnip + Brimstone novella finished, edited, and published
four flash pieces written (two doing the submission rounds at the moment)
many smaller pieces in various states of completion (thanks to the draft a week challenge, which has slowed down over the long fucking winter but is still always there at the back of my mind)
Your Friend, Biggs (9k story) finished, edited
Writing group Anthology being assembled, formatted
And now, Trash Planet. Ideally I'll get the first rough draft of that done and dusted before the end of the year, and we'll get the anthology over the line.
I've also read (checks notes) twenty-three books this year, which is not bad considering (checks notes) there's still a couple months still left in the year.
It's ok, right? I'm also working, parenting, doing karate, watching loads of dramas (KDramas, CDramas, BLs), playing video games (yes Baldur's Gate 3 and Starfield, among others), taking photos with my new camera, dealing with family health worries.
It's ok.