Discombobulated
July 2, 2023 -
Covid, again
In lieu of a proper blog post I thought I might make better use of the weekly log thing I have set up in Obsidian where I blather on about things that pass through my brain in any given week.
And yes, Leila's got COVID. So far Steve and I have dodged it. Really hoping that sticks.
**
Running out of places to note down what I'm reading and doing. Leila has COVID. She has snapped off the end of her headphones inside her laptop. Things are not good.
**
I'm haunting Alexander Chee's stories and essays. They are wonderful. I love the one about his father. He's very handsome: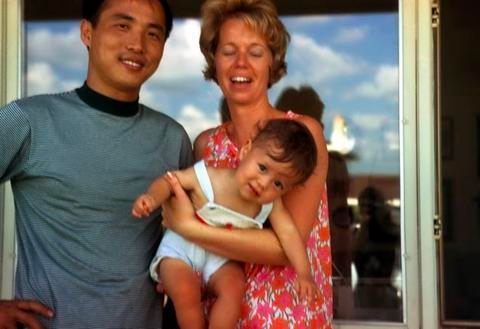 baby chee
And looks like he should be on the Enterprise in that shirt.
This interview with him is cool, too. He likes Janet Frame.
And then there is this piece on couples' book collections that made me feel something I'm not sure I have a name for just now.
**
I feel like I want to make a brutalist website, even though most of these are just websites by kids who think the 90s are cool and want to go back to straight html + css but in a web 1.0 sort of way. On one hand I'm all side-eye at them about it but at the same time this still remains my favourite way for web pages to be made. Probably because it's the only way I can still do it. Maybe this is what it means to be old, haha.
**
I signed up for three or four domestika courses yesterday. Even though I am still behind on the ones I signed up for a year or so ago. I can't decide how I want to take notes for them. I have some crappy old notebooks I might just pull out and use. Scribble down everything as I watch and then transfer whatever is good either into my writing notebook or in obsidian somewhere.
**
Still negative for covid. Groceries arrived. Raining. Watching Cherry Magic! Thirty Years of Virginity Can Make You A Wizard?! which is wonderful.
**
Going to try and write for a bit so the day isn't completely wasted. I did play piano for about an hour. Apart from that…what a weird blank today has been.
**
I did charge the batteries for my digital camera (Fuji x100s). More and more lately I'm leaning towards just taking film photos with black and white, and colour with digital. B&W is just easier to process.