Discombobulated
May 31, 2023 -
Great grand gestures wanted
Wednesday night. Leila's at "mini squad" (swimming) and I've just wrapped up my month-end timesheet and invoices. It was a busy month; not only did I have some big weeks with software testing, but I'm also doing some copywriting work for Lil Regie, writing some guest blog posts! I was a little nervous about it, to be honest, but the feedback I got was really good, and they've already lined up another one for me to write for next month too.
I'm in the study, listening to an old spotify mix, called "Morning Writing." Stuff by Dinosaur Jr, the Ramones, Lemonheads, L7, Elvis Costello. It's dark these days; the desk lamp is yellow and bright but my eyes still don't feel like they focus as well as during the daytime.
I've been really restless lately. I'm glad I'm not working in an office, and the colleagues I have are wonderful. I just don't talk to a lot of people during the day. Usually that's not a problem either (though I am pretty much on the introvert/extrovert fence, it's easy for me to tip) but, yeah…restless. I really want to travel!
I mean… look at this?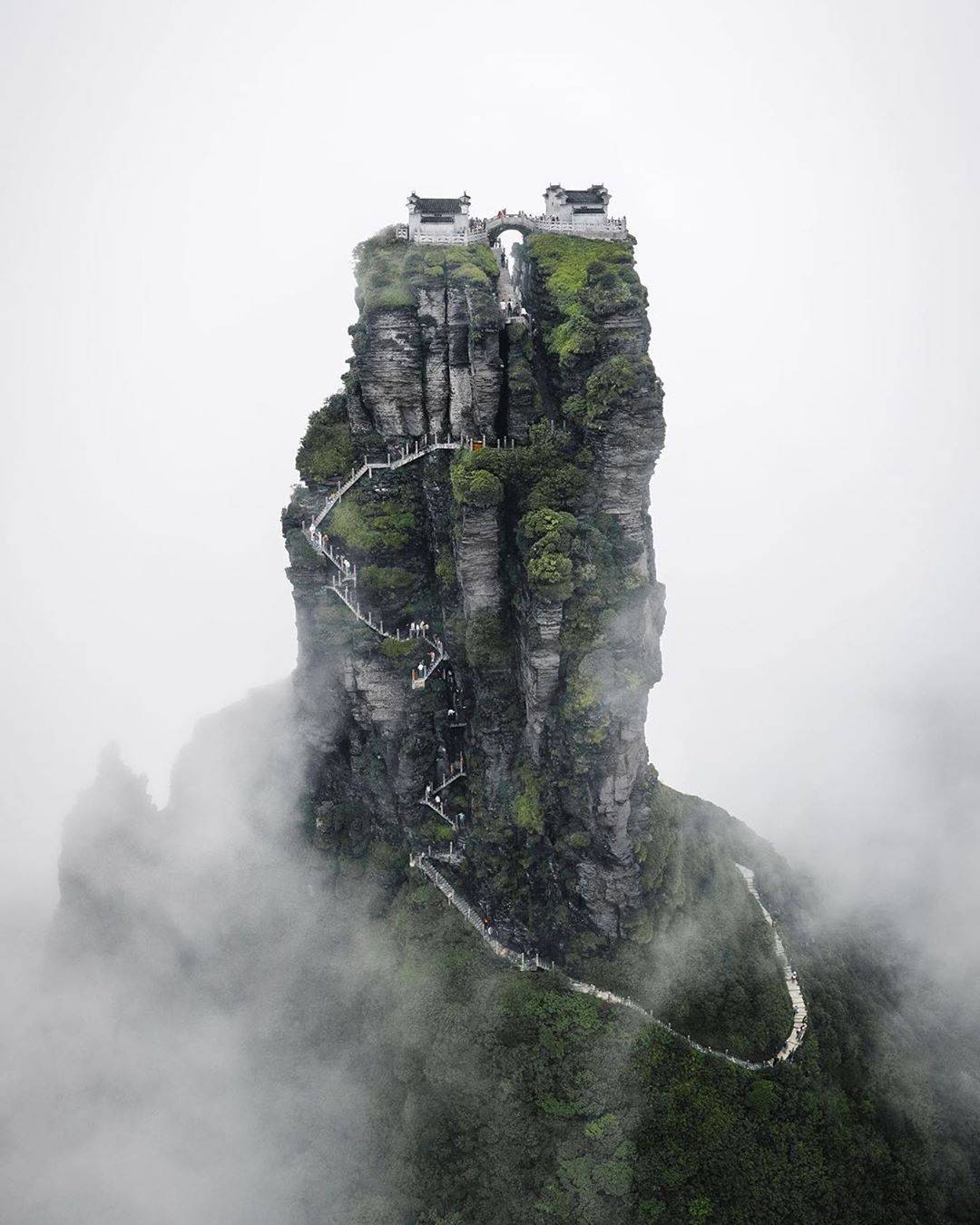 omg
Sigh! Fanjingshan Temple, looking at you! My lungs hurt imagining how cold that air would be. But that's what I'm in the mood for. (Probably due to all the CDramas I've been watching lately, plus the hideously-effective, can't-be-anything-else-but-a-travel-advertsement, wonderful, "Meet Yourself" which sent both my friend Katherine and I off on a Yunnan Provence spiral for a while there.)
Ahem. I've been reading a lot too, which I guess is something. I've just started Dead Collections by Isaac Fellman, which is wonderful too. Written from the perspective of a trans, vampire archivist. All shadows and illumination. I haven't read anything of Fellman's before but I love his voice. Will come back and talk about it more once I've actually finished it. Also in the backlog: Bryony and Roses by T Kingfisher, Heart's Blood by Juliet Marillier (love that lady!) and Summers at Castle Auburn by Sharon Shinn. I ordered those three in a moment of gothic fixation, and can't wait to get stuck in. (As well as the Fellman, I got another vampire novel, Sunshine by Robin McKinley. I love vampire books. And time travel books.)
Trash Planet progresses; I've taken a small step back and have been notecarding what I have so far, as well as what might come next. Working on index cards is really interesting, and when I actually get past the fact that index cards aren't really all that cheap here in NZ (seriously, why), they work really well for me. I love shuffling them around, spreading them out, finding blanks, links. When I'm on a roll new ideas do come forth, in a way that chronological writing on paper, or list making or mind mapping, don't seem to engender. Anyway. I now have a potential sentient planet on my hands, as well as creatures made of trash, to do something with. I'm still puzzling out a few relationships (especially between the main character and a boy (young man?) she used to be friends with but isn't any more. They have a past but I'm not so keen to make this a young adult romance thing, as much as he would like it to be that sort of story).
In typical fashion I've also waited until the last minute to submit an application to Cat Rambo's Wayward Wormhole retreat– 21 days in Spain, because why not. It'd be the longest I've been away from Leila since she was born, basically, but I feel like I need to make some great, grand gestures at this stage. There are only ten places available, but you'll never know until you try, eh?
Fanjingshan, you keep killing me