Discombobulated
May 25, 2022 -
Stationery I use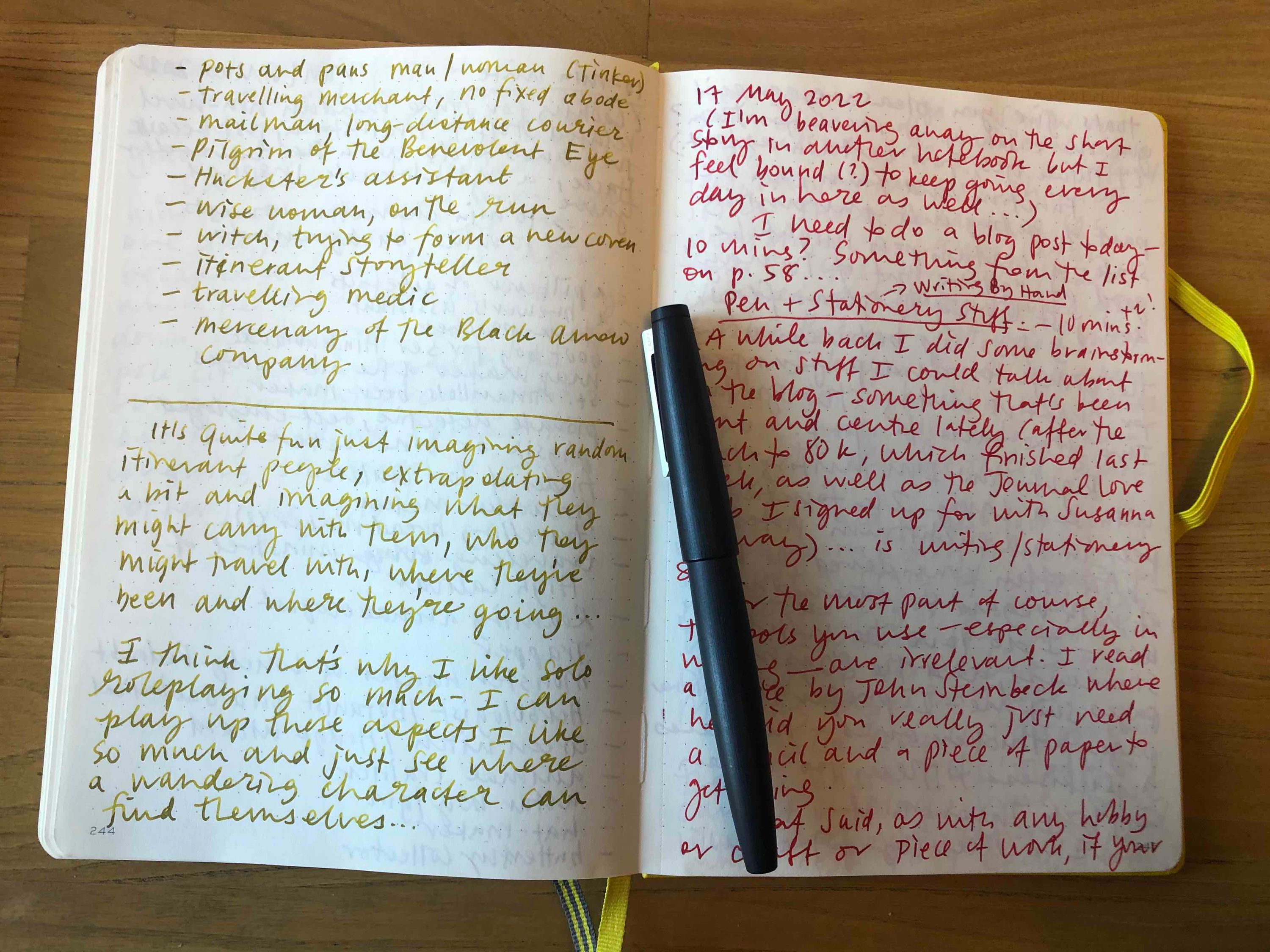 surprising no one that I wrote this in my actual notebook
A while back I did some brainstorming on things I could talk about on the blog, and something that's been front and centre lately (after the couch to 80k finished, and Susanna Conway's Journal Love Club started up) is writing and stationery. We've been talking about it a lot on the journal club boards, and I guess it's a topic that's definitely prone to fetishisation. But all the same I don't know if it's something I've really written about much, so here goes.
For the most part, of course, the tools you use—especially in writing—are irrelevant. I read a statement by John Steinbeck, where he said all you really need is a pencil and a piece of paper to get going. I like that this is still true; there really are no hinderances to writing.
That said, like any hobby or craft or piece of work, if your tools give you pleasure, aren't you more likely to reach for them? (I think yes, to a certain extent.) Function and form can be part of getting into your writing state or flow; a certain pen might be good at "getting out of the way," letting the ideas just flow.
I toss up between using my laptop and paper and pen for creative writing. I'll get going on one of them, and then out of the blue I'll just get a feeling of wanting to switch over. Scribbling in a notebook when you're stuck can be a good way to vaguely change modes while still trying to persist on the project or story. And when writing by hand, sooner or later I get the background itch to start typing things up so I can see the words on the screen.
Right now I'm writing this with a Lamy 2k fountain pen in a Leuchttrum notebook. Steve bought me the pen a while ago—before Leila was born—and I got the notebook as a birthday present. They're considered high-end, I guess, but there's something I really like about the Lamy's no-nonsense construction and materials, and I choose to write in the Leuchttrum because the paper has a texture I like, but it's also great with fountain pens. (It's interesting how so many of these decisions are tactile ones.) I also really like the notebook's sturdiness, and the 80 gsm pages suit me—I prefer them to thicker ones—but there's still a sort of "silky" feeling when you page through it.
Recently I purchased a few more pens: a Sailor Pro Gear Slim and a Pilot Custom 74, which both have a different feel, weight, and nib characteristics. Those, the Lamy, as well as a 1960s Montblanc, a Lamy Safari from the 90s, and two "classic cheapies," a Kaweco Perkeo and a Pilot Kakuno, are my most-used fountain pens. I keep a log of ink and pen combos in the back of my Hobonichi Techo (which also has dreamy Tomoe River paper).
That said, I also love writing with pencil in shitty notebooks. I've got a stack of composition notebooks I got a while ago in a clearance sale, which I've used a lot in the past for morning pages. I also recently discovered that the basic '1B5' that school kids buy in stacks every year and you can get for $1.99 at Warehouse Stationery—these seem to also have really fountain-pen-friendly paper! I'm going to pick up a stack of these to use as my rough draft notebooks. I want somewhere I can hash out a story, and leave the Leuchttrums and Midori MDs (another great notebook) for other things.
My everyday schedule I manage, bullet-journal style, in a Hobonichi Day-Free. Mine are not artistic at all. There is text, in various colours (blue for work and time logging, black for personal stuff). I don't use washi or stickers in that. I save those for the A6 Techo, where I do a little daily sum-up, or for my Midori MD journal, which I've been writing in most days since starting up the JLC.
I guess it seems like a lot, spread in quite a few places. I'm not sure. The only ones I use daily are the BuJo for scheduling, the Techo for my daily check-in, and [this] writing notebook, which I'm wanting to become another daily practice.
I just want my mind to turn to them each day, and I suppose I do, as I perhaps turn to look at the little Japanese cup where my pens sit (3 bucks from Daiso), or the stack of friendly-looking notebooks beside my work laptop.
I guess for a while I had lost my way with my writing, and going back to doing as much as I can by hand seems to put me in a more effusive state, and I can get myself putting words on paper, every day.
---
Anyway, that's it, really. An ever-evolving situation that's probably only interesting to certain people, and perplexing to others.
Just as an aside, the so-far-so-excellent The Art of Writing Fiction by Andrew Cowan arrived in the post a few days ago. He's a big fan of writing notebooks, and keeps his journals in interesting ways. Instead of just dumping everything into one, he separates them out. Sets constraints on them too. This one's about weather, after standing outside and observing for 15 minutes, worked on for one year. This one is about observing an event every day, focusing on a family member, worked on for six weeks. And so on. There's something rather enticing about these project-like journals; I'm going to try to do the family member one.