Discombobulated
June 1, 2021 -
Winter but not blue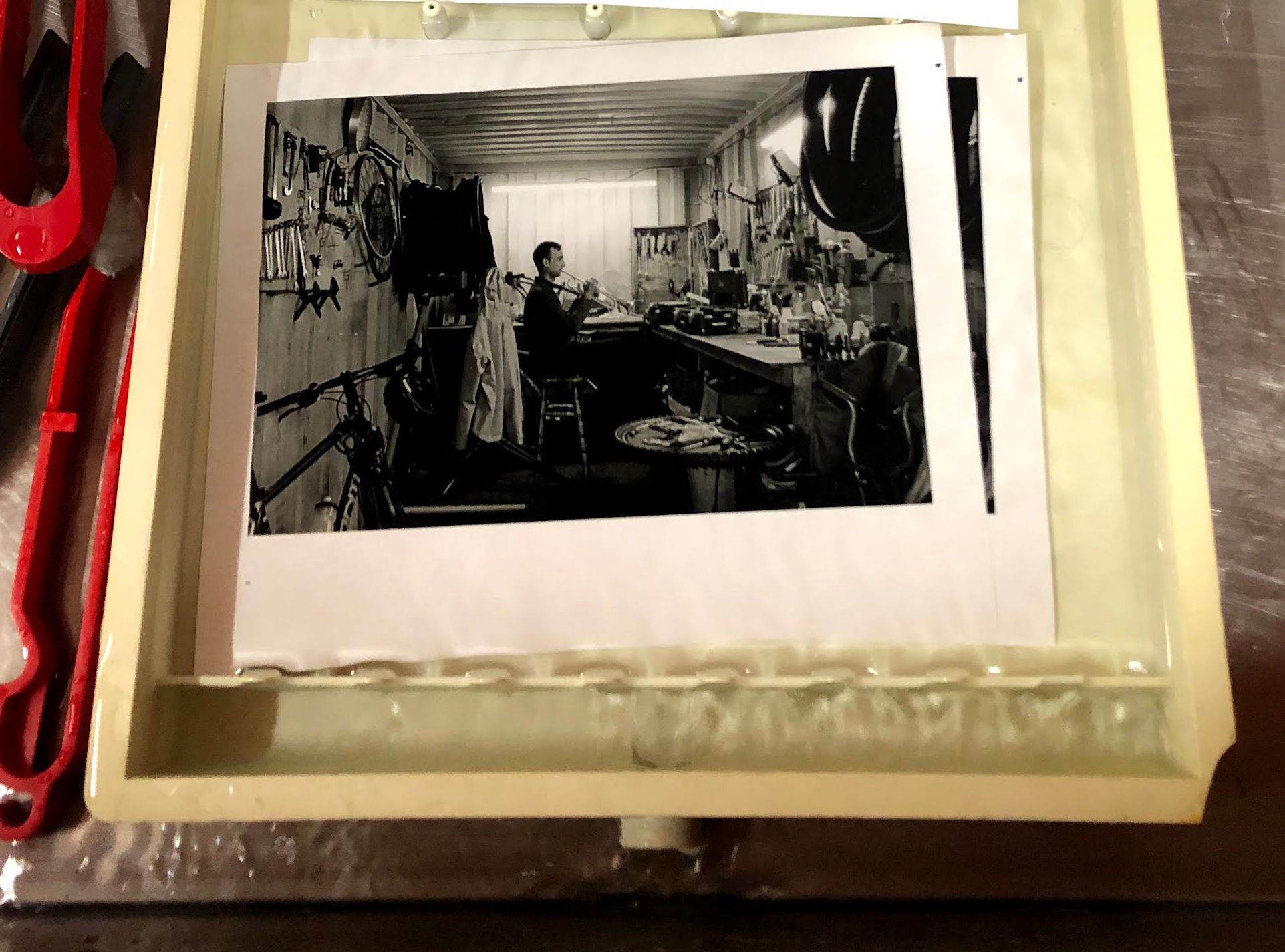 photo being developed
Wow, look at that. It's the first of June somehow, already! It is freezing, here in the southern hemisphere, I'll give you that. There's a southerly sweeping through at the moment, which, in these parts, means an antarctic blast that makes you just want to stay indoors. And drink lots of coffee.
While I am mostly keeping inside at the moment, I did venture out over the weekend for a very cool darkroom workshop here in Wellington. You may already know but I regularly develop my own film (b&w and colour) but I've been in a long, drawn-out process of trying to set up a darkroom so I can do some printing as well. I've got most of the gear, having lucked out on a Trade Me auction some years ago where someone was getting rid of their darkroom, but it had been a really long time since I'd done any darkroom work. (High school days!) So it was great to work in a cool space with three other people plus instructor, and learn all of the best practices (because frankly most of them had gone out the window).
So, I've got all the darkroom gear out again and I think I'm going to make a proper go of setting it up. The main thing I need to sort out is the 'dark' part of the darkroom, getting some blinds or covers of another sort over the bathroom window. I'm really hoping to do this without having to sew curtains, because after having sewn curtains once, I realised how much I hate trying to sew with large swathes of fabric on a small home machine.
Anyway, the photo above is the picture I spent the weekend working on — I shot a roll of 35 mm and surprised myself by asking the guy in this photo if he would mind if I took his picture. He was working in a container as a bike repair guy, but must have been between customers, because he was in his workshop playing the trumpet. It looked like such a cool place and I loved the music wafting out of there. The repairs are free to anyone as well, which made it even better.
I have to get back into town to pick up the prints though — tomorrow's the plan. Really looking forward to seeing them up close again. There's something about printing; it really takes your breath away when you see your pics on beautiful paper, a print you made with your own hands.
I'll give you a close-up once I've got it! :)