Discombobulated
March 29, 2021 -
A Desk Day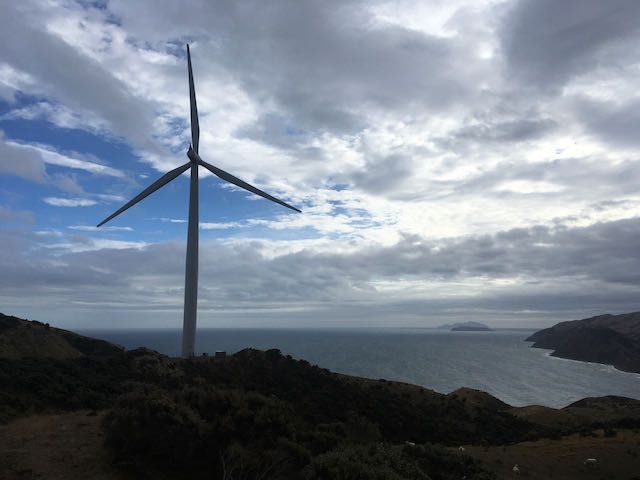 wind farm
That was yesterday, the wind farm. Steve did an Xterra race, and wound up coming first for the middle-distance race. He actually was the first one back of all the races, which they had stagger-started, hoping everyone would finish at once. It was really awesome, and cool to be back at the Makara wind farm. We used to live near there, and Steve and I went for a few walks in the area. Something so wild and woolly about that coast.
Weird day here today though. Really wet; didn't get out of the house. I've got a cold coming on. Drank lots of coffee, listened to lots of music, loud, down in the study, writing in my journal and scratching away at the story, going through old boxes of index cards and coming across small treasures there. A small glass of Stone's Green Ginger wine, takes me back to being sick back in Dublin, and my landlord knocking on the door, thrusting a bottle of Jameson's though at me. Not the world's most productive day, though I did write in my journal, and update my daily log diary, and did half an hour of actual work (re-testing fixed bugs).
Heater on, burning a candle of "hot apple pie" that I made a few years ago. Thought I would order some more soy wax, so I could make more candles, but everything is out of stock. The Suez canal is blocked by that ridiculously-huge 200,000 tonne ship right now, but I think our shipment problems in New Zealand have been going on for much longer than that.
Old Journals; time to flick through those and catch small threads of thought. Hard to throw your line into the waters day after day and expect to catch something every time. Today was just a day for sitting in the boat and watching the surface of the water, I guess.