Discombobulated
March 16, 2021 -
Computering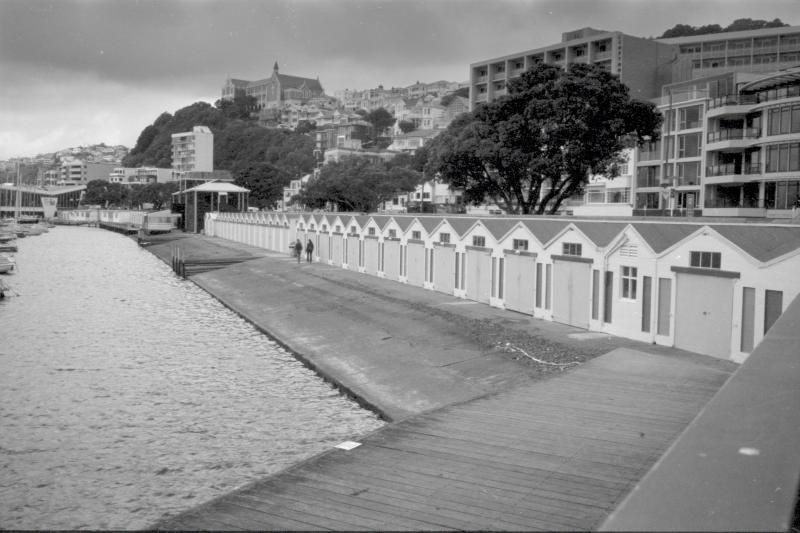 wellington boatsheds
I've been computering quite a bit this week; setting up Pop! OS on my laptop (or as I feel more comfortable calling it, Pop_OS), some software testing, and doing some poking around and sorting of my photos library. The above pic I took back in 2018. It's of the boat sheds along the Wellington waterfront, just before you get to the marina. I couldn't tell you what camera I used, or even what film. My photo habits were pretty sporadic then, basically little more than "shoot and hope." But I like it, all the same.
Pop_OS is really enjoyable to use, and now that I've gone through the process of getting everything set up (honestly, two-factor authentication is the worst when you are wanting to set up all of your accounts at once; but Last Pass is such a life saver in that regard too), I'm at the "tweaking" stage. Themes have been set up (I've used these instructions to help guide me through configuration and setup), mail is working, I've got all the basics for my weekly "stuff" (Slack, Discord, Zettlr, and the photos app I was delighted to discover, Shotwell), and I'm learning all the quirks about how things work together here.
What I really like is how little bloat there is. No weird multi-gigabyte folders of mystery files that you aren't allowed to delete. No weird apps that are a pain to get rid of. It feels…clean. And to be honest, I was thinking about maybe dual-booting with Windows 10, or running it as a Virtual Box, but I'm starting to wonder if I actually need to install windows at all. My game review days are pretty much behind me, and so many more people are releasing for Linux these days. Scrivener was a factor last time I was asking that question but now I have the mac mini set up downstairs, it's much more enjoyable to use that down there anyway.
I can play Stardew Valley. Rimworld (hehe). And apparently the Sims 4 too. My bases should be covered :P
Potentially I could write-write here as well, but I still am really enjoying Ulysses and all the things it does so well, so simply (with my old version). Zettlr has some great functionality for working on a project (in many ways like Ulysses) and even better, it's a "universal app" that just works with markdown.
Anyway. There's a lot more going on (school dramas with frenemies, photography dramas, etc) but I suspect those are probably good for another time. It's 10pm and I'm going to go sit down with a cup of tea and see if I can get in some good time with The Grapes of Wrath. It's turning out to be a slow read for me, which makes me nervous as it's a library book and I've already re-checked it out once (!)
Wish me luck!