Discombobulated
February 5, 2021 -
A Day For Writing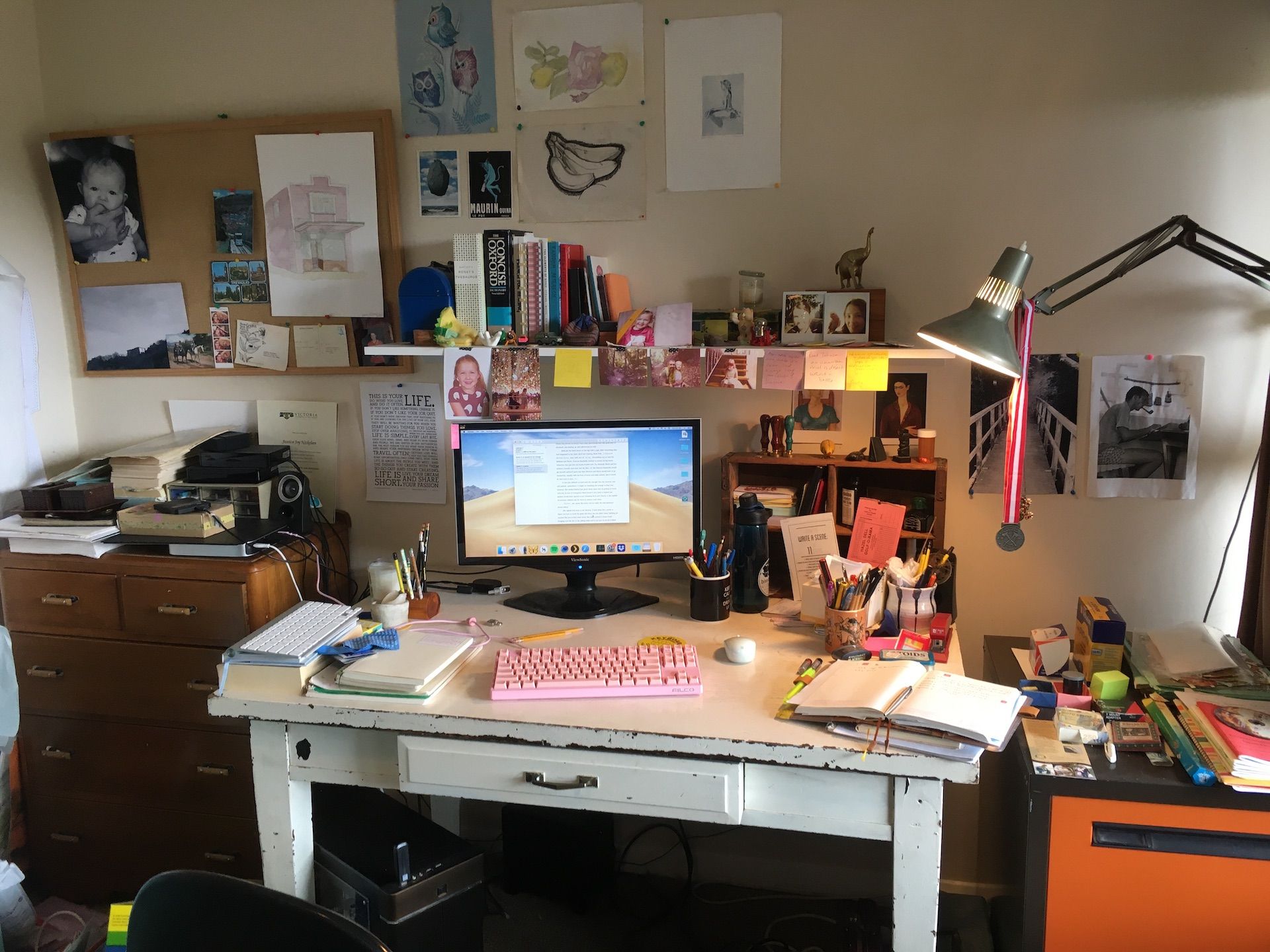 my desk and workspace
It's drizzly outside, and not particularly warm, so it's a great day for getting set up down here in the study and doing some writing sprints. I've recently resurrected my old Mac Mini (one of the late-2014 models) and have finally dug deeper into the problems I've been having with it. The main issue is that it just runs so damn slow that doing anything was causing me seriously high levels of stress. Turns out that lots of other people have had the same problem, and many have suggested that plugging in an external SSD and re-installing the operating system to that, would go a long way towards improving performance.
So - I took the plunge, ordered a Samsung 500 GB SSD for $150 from PBTech, and ordered a new bluetooth mouse while I was at it. (The old one had started misbehaving.) The mouse arrived today (a lovely mint-coloured Microsoft mouse, $24), so hopefully the SSD won't be too far away either.
Anyway, Leila is off to a friend's house after school today, so I don't need to leave off my writing and go do the school run, which is also rather nice. I try not to write about her too much here, apart from in vague terms, but yesterday when I was in the middle of my online Pathfinder game and Steve was putting her to bed, she came upstairs, tears in her eyes, needing a big hug. I put the game on mute and asked if she was okay.
"I've been thinking a lot about death," she said.
She's eight.
I guess it's come up a bit lately, what with all of the "Covid numbers" in the news, aging grandparents, being eight and thinking about her own mortality, plus all the talk we've had at home around our solar system, the age of the sun and the earth, and the fact that we only have another 4 billion or so years left before we will have to look for a new planet to live on. It's pretty heavy stuff to have to carry for anyone at any age, and I see her grappling with things I remember struggling with at around the same age.
And is there anything, really, that you can say? I don't want to lie to her, but I do also want to reassure her. I say things like Dad and I will be around for a long time yet, and I plan on being around until I'm one hundred and I'll be the silly old lady over in the corner embarassing you when you're a grown woman and things like that. I try to make her laugh a little, even though knowing my sweet girl is having thoughts like these makes me want to cry too.
Sorry. This was meant to be a blog post about me organising my writing space. But when is there ever, really, a great time to talk about death anyway? It's such a bloody bummer. And I do know one friend who is going through the loss of a parent right now, and I just feel for him so much. And you know one day you'll be going through the same thing and it just fucking sucks.
But at the same time, knowing my sweet pea is scared, I want to be brave and strong for her, and maybe that's how it works too. You just need someone to be brave for. And somehow being brave for them, despite all of death's shittiness, still feels like a good thing.
Anyway, drizzle. And pizza tonight. And we're going to watch A Whisper of the Heart, which is our current favourite Studio Ghibli movie. It's so freaking good, up there with Kiki and Totoro.
Anyway, happy Friday all.