Discombobulated
May 15, 2019 -
Thoughts on keeping a daily diary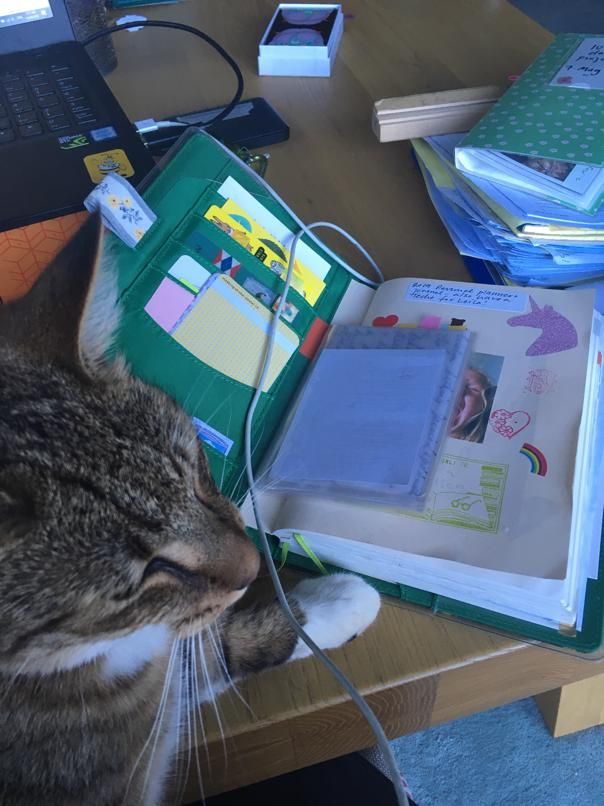 chewie the cat, being very helpful
This is by no means meant to be some comprehensive essay on being a diarist (though I have tried it in the past), but more a reflection on how my diary-keeping, and journal-writing, have morphed over the years into something a bit new.
The pic above shows where I write most days (plus Chewie the cat): my Hobonichi Cousin. I came to Hobos pretty late in the game, but with their great Tomoe River paper, the thin sheets can take fountain pen, markers, and even watercolours, which makes them great for doodling, scribbling, scrawling, and general yawping on the page. I use the weekly view for general keeping-track-of-things, the monthly view for long-view tracking, and the yearly view (the first few pages) for ongoing lists or reference info.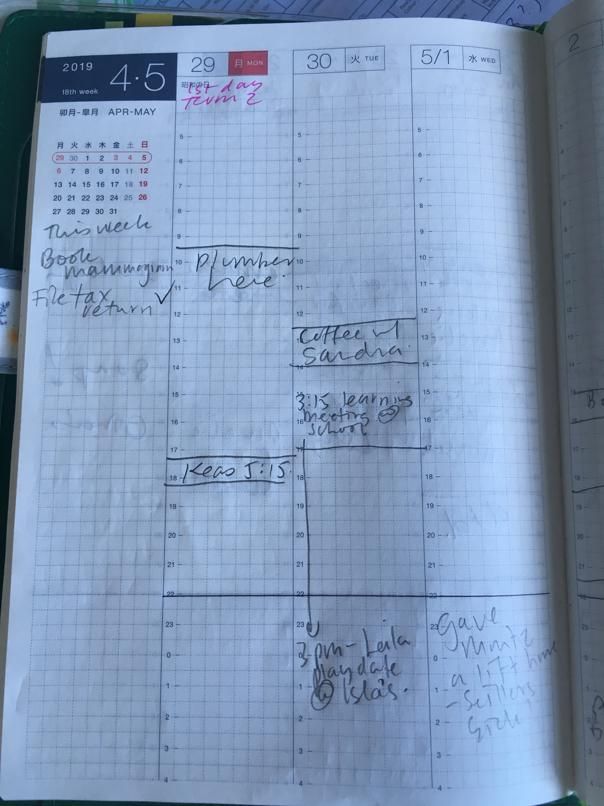 weekly view
The daily view is where the action happens… when I first started I went all-out with embellishments (because I've got to justify those sticker club subscriptions somehow, right) but now things look like this most of the time: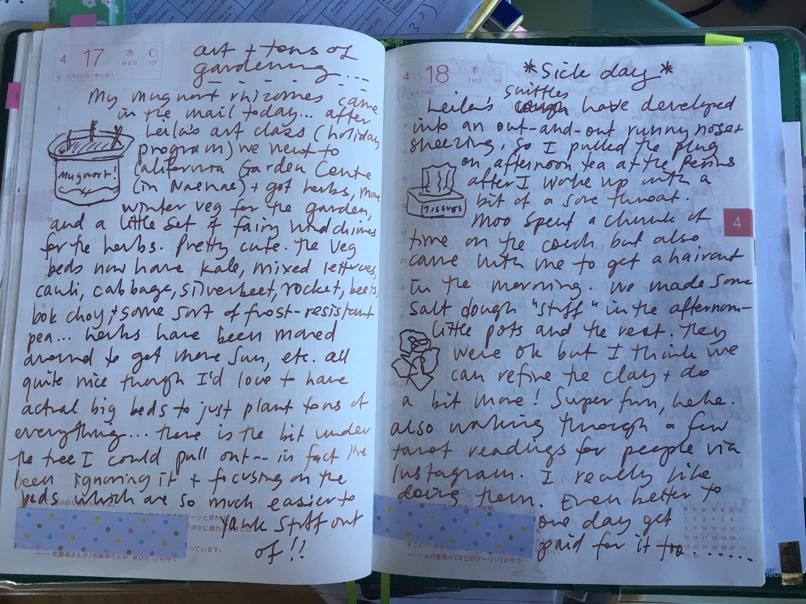 daily view
and sometimes I will even attempt a poor sketch, because it's a new challenge for me, and even occasionally I will wind up with something that pleases me…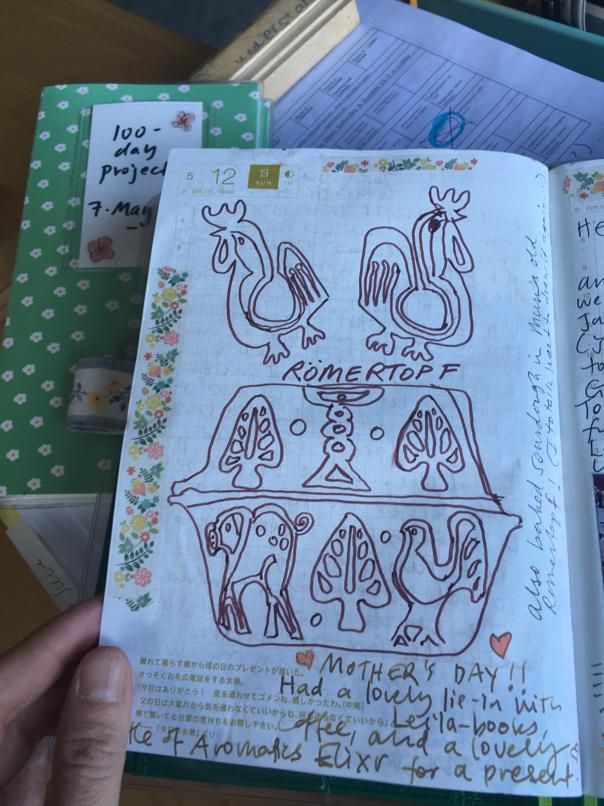 I felt compelled to do a poor drawing of a romertopf
The cover is the petit fleur, which I am still chuffed with, though I am trying to justify the acquisition of a smaller Hobonichi with the decadent blooms cover. I'm thinking #100daychallenge or similar, or a small poem a day, or something?
It's the daily writing though which is the real discipline. Of course you don't always do it, and sometimes you even wind up with a week's worth of pages to catch up on. For a while I'd try and do it — going back to my week planner where I do try to jot notes of what happened that day — but lately I'm just embracing the messiness of it all (mine is not an Instagram-worthy example of Hobonichi-ing) and have started filling in the pages with longer, rambling, jottings, or even notes on books–or a watercolour muck-around.
But, there is something rather lovely about using the daily entry as a multimedia grab-bag for the events of the day. Receipts, ticket stubs, child's drawings and notes, as well as photos, stuck in, make re-reading the diary a lot more pleasurable than the agonised endless scrawls in my old moleskines (there's a photo of them in that wordpress link, above). What I'd really like to do is to have this notebook for my life ephemera, and another for artistic ephemera. A sort of muse journal, I suppose. Images or quotes, pretty things and artistic endeavours. Something to look back through and look for inspiration. Though why I feel I need to separate art and life, when it's all a great mish-mash in me anyway, I'm not sure.
It's certainly a different place from the writing I used to do in my journals. I wonder if perhaps all those years I wrote, and wrote, and wrote, in them, I was trying to build up to fiction? Now I've started settling in to actively writing fiction I've noticed that my long-form stuff has tailed off. I'm sure that's not a coincidence.
I still do have my "long form" journal, though I'm finding with the daily diary check-ins, and my fiction notebooks (and fiction journal, where I log the day's writing, and ponder project-related stuff), I'm not really checking in there as often as I used to. But I think that's ok.
:)