Discombobulated
October 9, 2018 -
tags set-up
I've been wanting to set up a page here on blot that lists all of my tags, generated dynamically as they are added & tweaked. I found it a bit of a struggle until our last conversation on micro.blog, where @Amit mentioned he had done something similar on his blog. Thanks to @JohnPhilpin as well for his encouraging comments, I've managed to cobble a page together.
The steps I went through to create the page are as follows:
1 - I had to revert my template from local editing, under the theme-edit settings.
2 - from there, I was able to create a new view (left panel, on the theme-edit settings page), which I creatively called "tags.html".
3 - on the theme settings page (https://blot.im/settings/theme), I added a new menu link for "tags", with the redirect set to "/tags").
4 - I switched back to local editing, and using my handy text editor (Notepad++), I edited the new tags.html file that I'd created in step 2, with the following: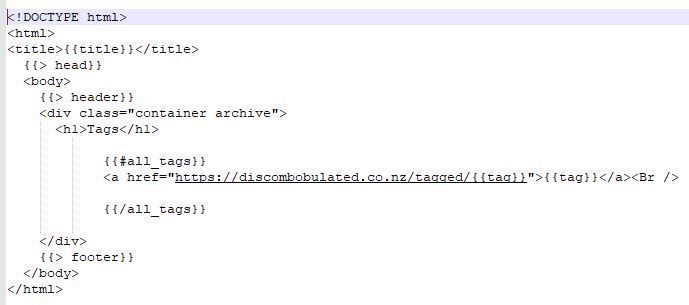 tags page
Edit (10/10/18): I've updated the above so the
'<Br />'
has been replaced with
' '
(again, thanks to a comment by John Philpin), to make more of a cloud. The vertical list of tags seemed overwhelming for some reason!
Touch wood, it seems to be working. In any case, I thought I'd spell out what I've done in the hopes that it might help someone else in a similar position to me. Enjoy!
(P.S. Feeling rather chuffed about getting this set up, but can I fix my wonky left-aligned body date bits on my home page? Not a chance…)