Discombobulated
October 12, 2018 -
NaNo prep, and micro.blog interview
I'm finally turning my attention to getting ready for NaNoWriMo. This year I'm planning on using the time (and great online swelling of excitement) to finally finish the second draft of my novel, which was once called Cal, Again, and which I'm now simply calling Felathia.
To be honest, I'm not as enamoured of NaNoWriMo as I have been in the past (I first started NaNo-ing in 2003, and have done it on-and-off over the years), but I do like that there's a huge buildup, an actual website, trackers, and the like. It's like registering for a personal cheerleader for the month, and I could really use one of those right now.
The rain is here, heavy and grey. The view out the lounge window is of shining green bush, rhododendrons peeking out among the ferns and kawakawa and punga. I'm glad the other window looks out and down to the sea; otherwise it would feel too close and enclosed. The kitten has just come in, dripping wet, and wants to rub himself all over my legs and laptop. He smells like earth and his funny boy-cat smell. My old cat, Sooty, used to always smell like cinnamon. I could never figure out why.
We are heading up the coast this afternoon, driving up in the rain to see family and friends for a quick hello, and then we turn around again early in the morning to get back for a 6-year-old's birthday party.
Then Monday it is back to the school routine, and back to my writing routine. This term I am going to make a point of not turning my upstairs laptop on until I've finished my daily writing goals. (The computer downstairs is so pathetic I can't have multiple things open at once.) I'm not looking forward to going back to making school lunch, but I really am looking forward to having some personal space again.
Poor Leila has been keeping tabs on me these whole holidays. If I go downstairs for a moment she wants to know where I am and what I'm doing. She can't bear to be alone. She wants to have the tv on at all times, even if she's doing something else (drawing, paper dolls, cutting and gluing all her different projects); seemingly it's just the background noise she wants. I'm pretty sure it's just a stage she's going through. I push back on the TV thing, maintaining it's good to be bored during school holidays, but it winds up being on more than I'd like all the same.
But anyway: NaNoWriMo. A lot of what I enjoy about it is the fetishistic preparation. The "writing kit." The planning of "things that must be in this novel." …Though I don't know if I'll have that this year…although writing this, I'm struck by what a good idea it would be to do anyway, a la: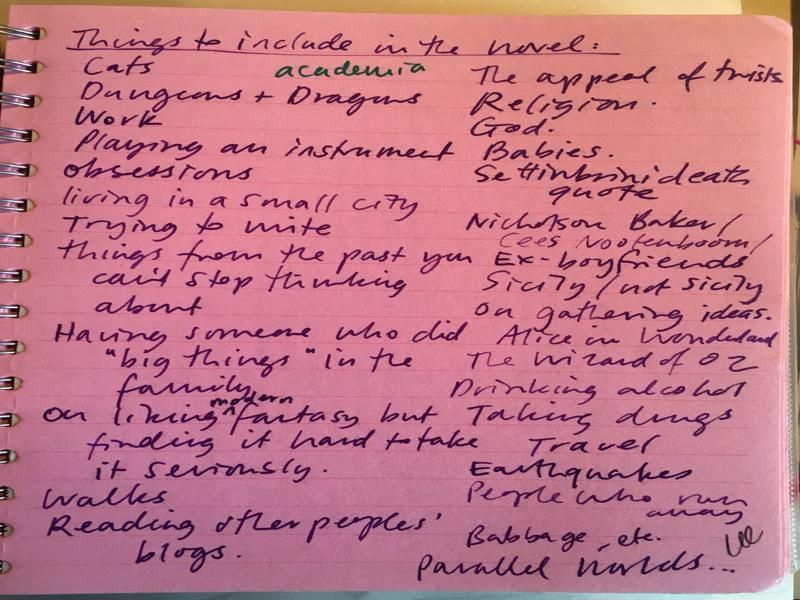 things to include
(This is really old, BTW. I can't help but laugh at some of this. Ex-boyfriends? "On liking modern fantasy but finding it hard to take it seriously"? "Religion. God. Babies." LOL.) But still…anything to help me focus on the key "bits" to keep at the front of my mind as I write!
Anyway, that's about all from me, although I do want to post a link to the transcript of my interview with Jean MacDonald, as part of "Micro Monday." Enjoy!