Discombobulated
July 23, 2018 -
Back To It
Well, the school holidays are over now, and I am getting used to the feel of sitting down at the dining room table (I was waiting for the coffee, but now it's done I'll head down to the study shortly) and letting my mind turn back to my current projects. It's strange not to be interrupted, though truth be told I never really expect (or try) to get much of my own thing done during the school break. It was sure busy though: several trips to Te Papa (one to look at art, the other to go to a free performance by the Royal New Zealand Ballet, of Little Red Riding Hood), many play dates, two sleep-overs, and a mini-road trip over to the Wairarapa. We had colds, hikes, hugs, tears–the full gamut. It's intense living with a five-and-a-half-year-old, who is growing, and learning, and figuring out her emotions and how to deal with them.
Even though I've only been writing a bit over the last couple of weeks, I have been thinking a lot about my process, thanks to a Patreon post by Fran Wilde (sorry I can't link to it as it's behind a paywall) where she was outlining a writing tracker she uses in her bullet journal. I've cribbed some of it for my own, though I'm sure tweaks and refinements will be inevitable. But I do like the idea of keeping a list of stories and books you want to write, with various items to tick off as you progress in your thinking and planning. (Truth be told I balk at large amounts of planning in my writing. I enjoy the surprises that come when you follow your nose. But it doesn't tend to lead you to projects that finish quickly. There is much backtracking and meandering, and I am starting to get frustrated by this part of the process in my current project.) I want to be able to find that middle ground for my own approach, and it really boils down to doing it over and over again and seeing what works. So, we'll try this for now.
Something I really am interested in though are those "happy accidents" where seemingly unrelated things bump up against each other, and spawn new ideas. For a while I thought I could get that to work with index cards, and I do still really love those, for the way you can shuffle them around and make new patterns and shapes. I've got a whole lot of ideas for a blog post on "chaotic writing" that are burbling around in the back of my brain that I would like to write up, if not for anything else than to have them all in one place for my own use!
There are a whole lot of other techniques you can use to generate new ideas and material, but one that I've discovered works really well for me is one that came from Holly Lisle's How To Think Sideways class. (Which, coincidentally, is huge and OTT and full-on, and really useful in many ways but ultimately again felt "too much" for me to use as an entire process. That said there are so many useful tools in her class that I find myself reaching for again and again, I'm really glad I took it when I did.) It involves talking to yourself (or your muse, or your right brain, or any other schizophrenic label you'd like to use), back and forth, one side asking questions, the other side answering them, often in cryptic and childish ways. There are rules to this sort of conversation: the left brain can't tell the right brain whether their idea is good or not; you must only ask leading questions, apart from the initial clarification of what sort of project you'd like to develop, how long, and other useful parameters. It is weird and lopsided and somehow it works for me, to the point that I now have a notebook called "LIGHTNING!!!" that I only use for these strange conversations.
That sort of leads me to another writing dilemma: how many notebooks?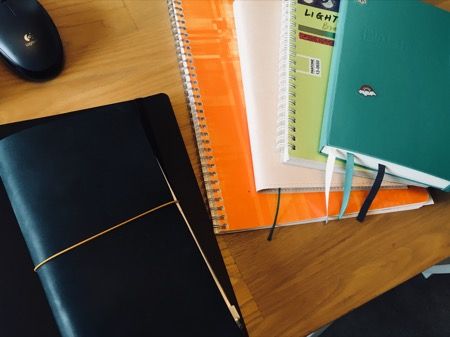 all of the notebooks
I have many: a fab Leuchtturm 1917 Bullet Journal that keeps me from forgetting stuff, the LIGHTNING!!! book, my diary/journal, that lives in a large Moleskine softback, a series of Clairefontaine ringbound notebooks for bits of the novel that need to be written by hand, and now a new Traveler's Notebook that contains my writer's notebook (planning, pondering, ranting, encouragements), and commonplace book (the net that catches everything else). I've also recently acquired a Midori MD notebook (& paper cover) which I'm going to use for drafting my short stories in, and hopefully keep them all together. Downstairs are two reading diaries that I didn't mean to start simultaneously, but as one is my current Don Quixote reading note repository (that seems to be taking a very long time to finish) the other has sort of come into being.
This feels like a lot. And I already have difficulty with storing old notebooks and diaries from the last 40 years of my life. I'm reluctant to create even more of a nightmare for my daughter to have to sort through once I kick the bucket.
BUT: it's hard to argue with the magic of pen on paper. (Oh god, that reminds me, there is also my morning pages notebook, which is one of those lovely Decomposition notebooks, which I use pencil in.) Ideas come differently on the page, as opposed to the screen. (Coincidentally, I am writing this on the laptop; something feels odd to me about writing a blog post on paper. Perhaps my brain is used to thinking a certain way when I write these things.)
Many asides today. But I think this is the process of consolidation, of drawing all of my scattered thoughts into some sort of focus. It's hard to go from the wide open space that comes with the school holidays and following a five year old around, to a sort of adult knuckling-down. A bit like the creative process itself, really. Alternating between the "whee!" of idea generation and play, and then the more focused shaping and structuring that has to happen after.
On that note, I will head off to work now. Adieu!